The Dorr Mill Store hosts ongoing classes in rug hooking and braiding.
For details, email the the teacher of the class you're interested in.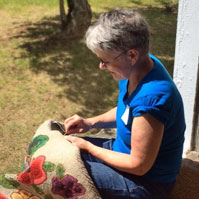 Linda Cooney
Linda Cooney is a resident of Sunapee, New Hampshire who has been enjoying hooking rugs since 2001. During the past 15 years, Linda has attended workshops sponsored by Green Mountain Rug Hooking and the Green Mountain Guild and the Pearl McGown rug hooking school.
Linda most recently completed certification with the Pearl McGown Guild as an accredited rug hooking teacher. She has studied the craft of rug hooking for several years under the mentorship of Cyndi Duade.
When Linda is not busy hooking, she enjoys knitting, sewing and volunteering in her community.
You can reach Linda at lcooney3@comcast.net.
---
Jan Seavey
Jan Seavey has been hooking rugs since 1976 and has been teaching traditional rug hooking since 1986. Jan is an Accredited member of the National Guild of Pearl K. McGown Hookcrafters, and has taught at many rug camps. Jan was trained by Master Rug Hooker, Hallie Hall, for more than twenty years, and over ten years with Master Rug Hooker, Annie Spring.
Jan took art lessons when young and went to college in Boston as an Art Major. She took courses at Massachusetts College of Art, and studied under various artists in the Boston/ Rockport Massachusetts area.
Being a painter, Jan found that rug hooking and wool dyeing offered another exciting medium to explore the possibilities of color.
Jan has been teaching Rug hooking at the Dorr Mill Store for over ten years. Her classes are every other Thursday evening and every other Friday morning. Saturday classes also available.
For more information, contact Jan at risinghawk7@gmail.com.
---
Sandy Luckury
Sandy Luckury has been braiding rugs for over 20 years. She began braiding rugs for her home and soon discovered that it was more than just a hobby. After retiring from banking, she began to pursue her dream of starting a business.
Sandy apprenticed with master braider Barbara Fisher who developed the braiding methods she uses. The precision of this method takes all the guesswork out of braiding. Each row of the rug is counted, then butted, and attached to the rug as a complete ring. Using this method allows rugs to be made in unusual shapes, such as rectangles, hexagons and octagons. Sandy enjoys working with the color and design of a rug to customize each piece for a client's needs.
Sandy became a juried member of the League of NH Craftsmen in the spring of 2004, and in 2007 was awarded Best in Fiber for a rectangle rug displayed in Living With Crafts at the annual Craftsman's Fair. She is a Certified Instructor of the Braiding with Barbara rug braiding methods and teaches rug braiding at the Dorr Mill Store in Guild, NH. Sandy lives in Bradford, NH and can be reached at sluckury@tds.net.
---