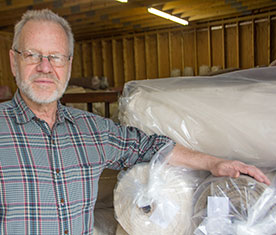 I'm Terry Dorr, and it was my father, George Dorr Jr., who started this fabric line over 50 years ago at the behest of rug hooking grand dame Pearl McGown — and it is with great pride that we continue this tradition.
We're very fortunate to have a skilled, devoted and enthusiastic staff who work hard to select, stock, prepare and deliver our products to you, quickly and efficiently.
And they're always ready to assist you by answering questions, offering advice and ensuring that you're shopping experience with us is a happy one. So feel free to call us at 800-846-DORR (846-3677) or email us at contact@DorrMillStore.com if we can be of any assistance.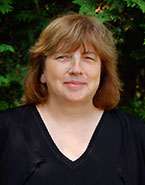 Gina is our store manager, an experienced rug hooker, and started in 1971.
Nancy handles our accounts receivables and mail order customer service, and has been with us since 1980. Jackie, our bookkeeper since 1988, also serves our customers and is a rug hooker and braider. Orbit handles our double folking and much much more. Sue also works in mail order to help with that very busy department, and Lisa, Roberta and Gayle bring fiber arts experience and enthusiasm to our team. Tammy completes our customer service department.